MARKET UPDATE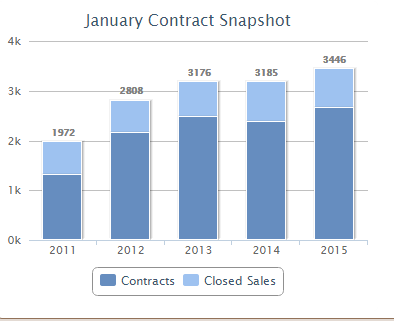 Statistics are in through January 2015. Overall the Richmond market looks like it's improving over last year. New listings taken are pretty much unchanged, up only a little over 1%, and we have many buyers who are having trouble finding what they would like to buy. Pending sales are up significantly though--19.6% over January 2014. Closed sales are pretty much flat. Newly listed condominiums are down 25% from 2014, and pending condominium sales are also down 24%, although closings are up slightly by 7%. Certain areas, especially in the downtown area, Western Henrico, and Western Chesterfield, there is a significant shortage of inventory which is resulting in some sellers receiving multiple offers on their homes. Typically, many sellers wait until April and May to put their homes on the market, thus missing the strong sales surge we have beginning in early February. The increased inventory in April and May should slow or negate the price appreciation.

HERE IS THE REGIONAL BREAKDOWN:
HENRICO: Pending sales up 34%, closed sales up 7%
CHESTERFIELD: Pending sales up 20%, closed sales down 7%
Dinwiddie: Pending sales up 44% (18 to 26), while closed sales decreased by 23% (10 v. 13)
Powhatan: Pending sales down 5.7%, closed sales down 13%
RICHMOND CITY: Pending sales up 11.5%, closed sales down 12%
It is interesting to note that pending sales are up virtually everywhere except Powhatan. That will lead to good closed sale numbers in February and March.
For specific information on your neighborhood, contact your RE/MAX Commonwealth Sales Professional at 804-794-2150, or broker@rvahomes.com
With over 30 years experience in Residential Real Estate and Brokerage Management, my goal has always been to foster the company with the most professional and successful associates in the business. ....